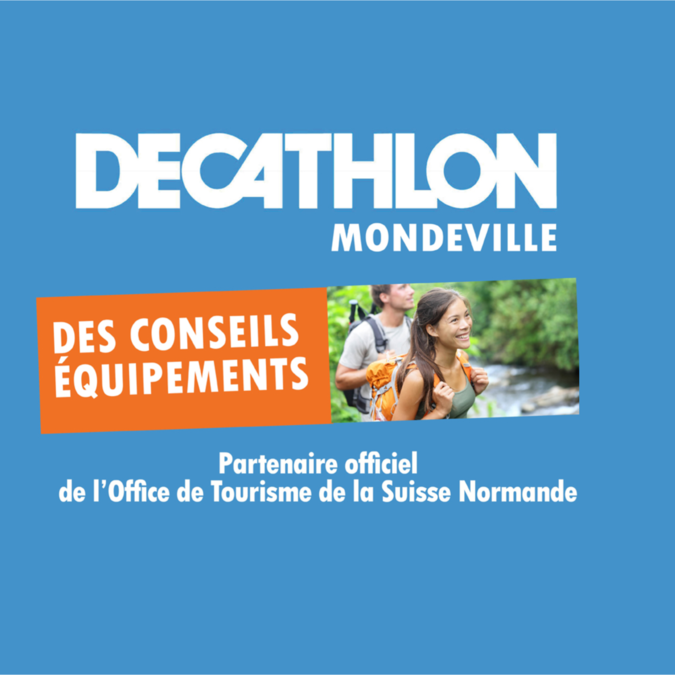 Tours and detours across Suisse Normande for you to delve into its landscapes and its history, for you to make the most of its natural sites and exceptional panoramic views, for you to discover its charming villages and to encounter its inhabitants, so proud of their area and its gentle way of life...
In a nutshell, Suisse Normande has just about everything, to please just about everyone! A change of scenery, an array of pleasures for all, emotion and thrills guaranteed... and, always, the desire to come back for more!
With friends, family or just the two of you, for all ages and all tastes...
By car via the Suisse Normande tourist route - 65 km (40 miles) of meandering roads through the finest landscapes of Calvados, and 120 km (75 miles) through Orne. A route for those who don't want to miss a single one of their charms!
By bike along the Suisse Normande green way or on the 'Vélofrancette' linking Ouistreham and La Rochelle (607 km – 377 miles) part of which runs through Suisse Normande;
By mountain bike along the 800 km (500 miles) of cycling paths and trails that cover the area.
On horseback, for a walk, a trot or a gallop, whatever your level, whatever your pace, you are sure to enjoy the marked routes in our horse riding topoguide.
Aboard a canoe or a kayak, along the River Orne, accessible to all, from Pont-d'Ouilly to the Val de Maizet, via Clécy and Thury-Harcourt, or along the Noireau and the Rouvre for experienced participants looking for more troubled waters;
By rail-bike, along the former railway track, transformed into a green way and also perfect for roller-skating;
On foot, free to roam wherever you like, in the hollow of a typical bocage pathway, along a ridge overlooking a valley encircled with steep slopes or across a network of over 800 km (500 miles) of marked walking routes;
In the air, aboard a paraglider, a hang-glider, a paramotor, or even a magnificent hot-air balloon. Head for the skies and revel in a mosaic of truly different landscapes;
Not forgetting the many other sport and leisure activities, such as golf (the 18-hole course in Cantelou, Clécy is quite rightly acknowledged as one of the finest natural golf courses in France!), climbing on the Rochers des Parcs rocks in Clécy, via ferrata, pendulum jumps and giant zip lines on the banks of the Orne in Clécy, treetop adventure trails and tree climbing, the multisports raid (two events organised every year), trail running, orienteering, geocaching, summer sledding, paintball, fishing in category 1 and 2 waterways or in closed ponds... so many activities, so many thrills to satisfy and amuse, to share and to remember, each one offering its visitors and participants an exciting way to discover Suisse Normande!

Far from the hustle and bustle, a happy holiday awaits you in Suisse Normande! Its authentically preserved environment, its wildlife and its nature combine to offer a truly charming destination...